The Leadership Genius Assessment
The Leadership Genius Assessment is a comprehensive, scientific online assessment that enables business owners, managers, executives and leaders at any level to understand their behaviors and motivations so that they can unlock their own leadership genius and bring out the genius in others.
Additionally, by identifying the behaviors and motivations of individuals, teams any organization can reduce conflicts, increases  retention, improve efficiency and productivity, and energizes groups working together toward common goals.
You can have this powerful, combination, DISC behavior and Motivators  (PIAV) report prepared for you, your employees, partners, and job applicants.
Simplicity Focus Session

Take your leadership and results to an entire new level. Receive both the Behavior / Motivations Assessment and your Leadership Genius Quickstart and add a 60 minute Focus Session.  Create an action plan that will enhance your effectiveness and respect as a leader.

Take advantage of our Simplicity Focus Session for ONLY $325.00
Even if you have had a D.I.S.C. assessment before, even if you've had dozens, I highly recommend hiring Ms. Schwartz to take you through it again. That was likely the best spent hour of my month.  The information has become so valuable, not just to my business but also in my personal relationships. The experience is second to none. -  Christine Lusty, LusTea LLC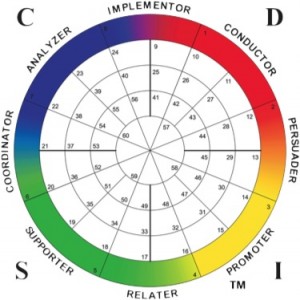 A focus session using DISC / PIAV Assessments provides understanding in how you communicate, how to reduce conflict, improve efficiency and productivity, and work better with your team.
DISC—Behaviors
The purpose of using DISC is to help individuals attain a greater knowledge of themselves as well as others. The ability to interact effectively with others could determine success or failure. By using DISC assessments you are adding a much-needed tool to your management arsenal.
A short description of the DISC Behaviors:
Dominance: Approach to Problems

High: New problems solved quickly, assertively, actively. Gets to the bottom-line quickly.

Low: New problems solved in a controlled, organized way. Thinks before acting.

Influencing: Approach to People

High: Meets new people in an outgoing, talkative manner. Gregarious and emotional.

Low: Meets new people in a quiet, controlled, reserved manner. Emotionally controlled.

Steadiness: Approach to Work Pace

High: Prefers a controlled, deliberate work environment. Values security of situation.

Low: Prefers a flexible, dynamic, changeable environment. Values freedom of expression.

Compliance: Approach to Procedures

High: Likes things done 'the right way,' and says, "Rules are made to be followed."

Low: Works independently of the procedures and says, "Rules are made to be bent or broken.
PIAV: Passions, Interests, Attitudes and Values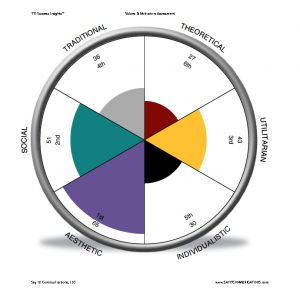 Values are the drivers behind our behavior; what motivates our actions. Abstract concepts in themselves, values are principles or standards by which we act. Values are beliefs held so strongly that they affect the behavior of an individual or an organization.
An individual's experiences, references, education, and training tell us WHAT they can do. A behavioral assessment will tell us HOW they will do it. However, it is not until we know an individual's values that we will understand WHY they do what they do.
With the knowledge of values, we can encourage employees in a way that satisfies their inner drive. We can determine if their position will be rewarding, based on the values they hold. Think of the advantages in knowing what motivates an employee right from the start, rather than waiting for time to tell.
Here is a short description of the Motivators:
Theoretical

A passion to discover systematize and analyze; a search for knowledge.

Utilitarian

A passion to gain return on investment of time, resources and money.

Aesthetic

A passion to add balance and harmony in one's own life and protect our natural resources.

Social

A passion to eliminate hate and conflict in the world and to assist others.

Individualistic

A passion to achieve position and to use that position to influence others.

Traditional

A passion to pursue the higher meaning in life through a defined system of living.
This is an investment where you can't lose. It opens your eyes and there is no closing them.
P.S. – If you are thinking that this is all baloney like a fortune teller, rest assured that there is a century of research and development in these assessments and that I have been trained and tested my my partner TTI: the world's leading source for research-based, validated assessment and coaching tools, with their own patented solutions and products that support the discovery, engagement, advancement and performance of our most important assets – people.
And not only do I partner with one of the best originators of these assessments, I am also a PCC (Professionally Certified Coach) through the International Coaching Federation, the only organization striving to bring standards to the coaching industry. I've been trained and tested. I continue my education regularly.
What makes me different:
I built a $10 million business.

I'm building another $10 million dollar business.

I'm a  PCC (Professionally Certified Coach) through the International Coaching Federation

Trained and Tested Associate of TTI Success Insights
How long will you wait to find your unique genius and those of people working close to you?
P.P.S: Why let a friend, colleague, manager, employee or partner wait. If you've already experienced the insights of this program, tell a friend. Or better yet, gift a friend!
Your friend and coach,
Ruth Schwartz
(The Business Owners' Coach)