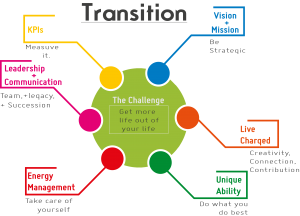 I've been working on a  couple of new projects.  Today I am going to share a little bit about one of those projects.
The Transition Mastermind Group
What started as a special request has grown legs of its own.  How do mature, successful business owners, and professionals start to get more life out of their life?
Were you thinking that your business would have  provided you some freedom by now?  You thought you'd be traveling the world carefree, and yet your business still demands and commands you?
The question is, how do both you and your business survive a role transition away from being in the day to day activity of your business.
Other business owners say, "We are not retiring!  We are living!"
Imagine that kind of enthusiasm in your own life.
The Transition Mastermind Group will cover:
Developing a meaningful vision of your life.  (Why do you matter?)
Managing your energy (Taking care of yourself)
Creating a (re)charged life. (Feelings of contribution, challenge, connection, etc.)
Understanding your unique abilities. (And sticking to them.)
Developing your team and succession plan.
Measuring your results and staying accountable to your vision.
This mastermind group has begun and it is off to the races.  There are still a couple spots available but I'm closing the doors THIS Thursday, September 20th.  We must speak by noon on Thursday PST.
If you think you're interested, send me an email now with the subject: TMG and list a couple available times for you to talk for 30 minutes today, WED, or TH.
ruth@highperformanceadvocates.com
Find freedom for yourself in your business.
XX, Ruth
ps: Looking to create a better group name? Help name it..  Thanks for your input!