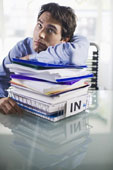 "15 Ways to be More Productive"
I didn't like all 15 ways to be more productive. – I simply will not be up at 3:30 to exercise at 4AM. But I do like some of them.  Stop Mulitasking!!!!
They are worth passing around. I especially like the way they produced the post as well. Now, how will I get that done for my blog too? For the answer, look for my upcoming post on outsourcing. Happy viewing.