Day Six: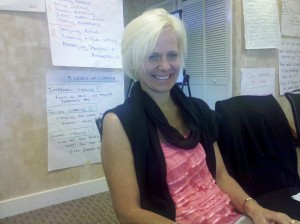 TGIF. I am glad to get to head home tonight. I am also feeling a bit preoccupied with my own personal interactions and considering how a group – especially a group as intensive as this – can keep the love going all the time, for everyone. I am not feeling secure about my interactions with everyone and am so distracted by that inner dialogue that when we set our intentions for the day I promise myself not to listen to that inner, insecure voice. It is a bit of self sabotage. Then again, that observation is exactly what I am here to learn to understand. It always starts with the self, doesn't it?
While we continue to coach each other and learn that skill, I am grateful when Chris asks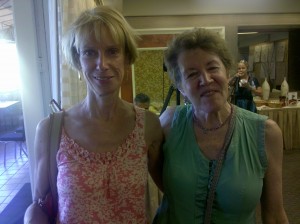 me to lunch. It is safe territory to get these thoughts off my chest. And you know what. It works! By the end of the day I am not sure how I can leave these people and go back to my life, even for a day. I'm a bit sentimental and am coming full circle with my feelings.
Day Seven:
It took four hours to drive home last night and I have a Toastmaster's training at 8:30 AM . By 11Am I am delirious. But I am inspired as ever by being with my peeps. When I get home at 1PM, I lay on the couch and don't move for hours. There are only two things I want to do. Talk with Rene and invite my class to my blog. The time with Rene is great. The invite to the blog doesn't happen until the AM and then I hit the road to make it back to Corte Madera by 1PM.
When class starts, it feels like it has been ages since we have been together. But we launch into the NLP material with this week's teacher Tim, clearly an expert in this world.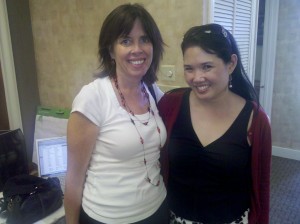 A few people in class have started reading the blog and they send me little private notes. But I am started to think this is a big mistake. Too private a story to be sharing. So why am I doing this? Is it a big experiment in public persona? I'm wondering if I should continue.
Dinner with Nayef and Cherokee followed by a heart to heart at the hotel where I am now staying. It is great to connect but I am feeling a bit exposed. Best to shut up and keep quiet?
Day Eight:
Things start shaping up. Bikram at 7AM with Amy is awesome. I feel great and I am committed to not getting wrecked by an AM class. Today I decide that the best value I will get from my day is to volunteer to demo with Tim. So I do, and it is an interesting process. While I received good feedback from the group, I am wondering about my own aha. I am not sure that I understand NLP yet, but I am clear about how changing behavior will not happen until you change belief. (If you need to change belief.) And I need to examine some deeply rooted beliefs. Tim pushed me to look at my behavior, and it irritated me because I know what to do. That is not the issue. The issue is that I don't believe that I can make it work. This also leads me to understanding that if my issue is a belief, it also means that I've done nothing wrong. What a relief! Tim says he'll fix me in a couple of days. That's a relief too.
Nayef wasn't happy with his reflection in this blog. Cherokee said I sound hesitant. I re-question writing this at all. I am wondering if I am making enemies rather than friends. Should I do this? Should I go deeper or stay safe?