We are on day 10 of a 21 day intensive training. People are feeling all kinds of crazy things. They are tired, inspired, angry, insecure. The group is jostling around and I feel the same way. But there is an interesting transformation happening to me that I can't put my finger on. I am starting to get a bit inspired to get back to the work of coaching and be better at it. I am starting to see that I am working to hard. If you are my client, it is your work to do. I can see that I have been a disservice to some people. That will change.
Thanks to Chris for an awesome lunch at PF Changs. You uplifted my spirits!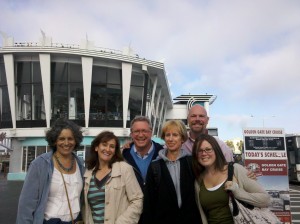 I especially enjoyed coaching yesterday.  It was gratifying to be with these people to discover their process.
Then there was the boat trip: The Red and White Sunset Cruise. We traveled in three cars into the foggy San Francisco afternoon. Those of us from the area warned the others that a sunset cruise would be cold and the sights would be few. As we stood frozen on the dock, I think our visitors started to "get it". But the fun was nonstop and the sights turned beautiful.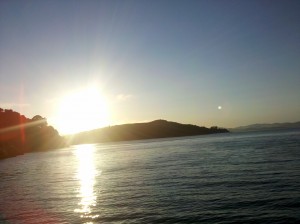 We started with a chowder in a bread bowl and ended in the Musee Mechanique. We all had a smile til the end. AND we had this gorgeous sunset. Life is sweet!