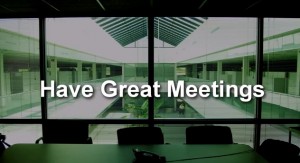 If you hate meetings, it's because you don't know how to have GREAT meetings.
Louis runs a consulting business in which he specializes in bringing diverse groups of people to consensus.  By "consensus" I mean helping everyone to be heard so that they feel a sense of contribution and can weigh in on complicated issues.  But when I asked if he regularly meets with his own staff to create consensus, he told me, "Of course I do.  But still, nothing ever changes and problems persist in my business."
"Why is that Louis?  Tell me about your meetings and the last consensus decision that was reached."  I asked.
"We don't do that in our meetings.  We have no time.  I tell them the issues, we agree to solutions, and we move on."  He answered.
"You do all the talking?"
"Yes."
"You have the agenda in your head?"
"Yes."
"People fidget, come in late, and look at their text messages?"
"Yes, yes, and yes."
"Nothing ever changes?  It seems like a waste of time? "
"Exactly!"
"Why is it that you, of all people, know all about consensus building, but don't value those principles in your business?"  I asked.
"I'm not sure exactly what to do . . . can you help with some guidelines?"  He sheepishly asked.
Most people don't like meetings, but we need to have them, so I created this video to help you understand how to have great meetings.
Stop wasting time having bad meetings that accomplish nothing.  When you have great meetings you begin to release the Golden Handcuffs.
I'm attaching my How To Have Great Meetings PDF for you to download so you can stop having bad ones and free yourself from the Golden Handcuffs.  Be sure to tell me your take away in the comments section below or let me know how you have turned meetings from bad to great!
Listen to the audio version of th video via Podcast:
[powerpress]
Thanks,
XX Ruth