This was the question of the day at last month's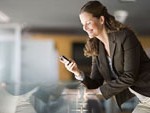 Executive Learning Lunch.  Business owners want to learn how to use social media. But many businesses are more concerned about whether the use of Twitter, blogs, Facebook and texting means less time working.  Statistically, the finding is – yes, less productivity. So how to handle it?
My opinion – since this is my blog – is that if you fight with fire, you will lose.  Engagement is a better solution to all bad workplace issues. That said, many companies are taking a hard stand and this very topic is fodder for the employee handbook.
A fellow  Alternative Board facilitator, Kent Gregorie,  in Atlanta, GA has forwarded this link from the site Social Media Today titled
Let me know what you think.