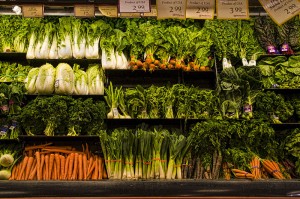 In February I decided with my husband that we would join a 21-day food cleanse with one of the dear nutritional coaches in my life. We didn't know exactly what she would do. But we decided to trust her. We knew that something needed to make a difference in our bodies and our life.I also know that the 21 day cycle is magic. Do anything for 21 days and you have a new habit. I was ready for a new habit!
The first week she made us eliminate the seven deadly sins: alcohol, caffeine, sugar, wheat, soy, dairy, and peanuts. Tough, but not too tough—I still snuck in my true craving. If you know me, you may think it was that precious glass of red wine. But no, what I craved most was my cup of Indian black tea in the morning. So in the spirit of full disclosure, I did not completely eliminate caffeine. I did, however, eliminate all but the first cup of the day. That said my first symptom was headache. Like a caffeine withdrawal headache, it was a brutally sharp pinging pain in the back of the head. But why-o-why was I having that pain? After all, I wasn't withdrawing from caffeine. After a few days it was gone and I forgot about it.
The second week she made us eliminate food. Relative to our willingness, we were asked to drink only highly nutritious green juices for two to five days. Our diet on the days before and after the green juice phase was fruits and veggies, only.
Being the protein addict that I am, this part wasn't easy. But I have to admit that when you are really determined to do something, it isn't that hard, either. Since we were moving our household that week, we decided that two days on green juices was going to be sufficient. I'm glad that my life was upside down at the same time as my food. I believe that it helped me with the food, to be in full life interruption.
And that is exactly how I feel about this program. It created FOOD INTERRUPTUS. Since my life is so filled with the seven deadly sins, this cleansing was an amazing jolt.
As we spent the next week adding foods back into our repertoire, it became very clear that my headache was a sugar withdrawal headache (yikes) and that my body hated the feel of wheat (darn it!). How long would I be able to avoid those favorite foods in my life? Well, as it turns out, not long enough. I need to revisit the cleanse and what it taught me about my habits.
What is the parallel between Food Interruptus and Business Interruptus? I'll send that story tomorrow.
XX, Ruth