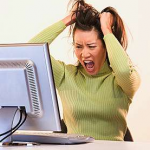 I'm flip flopping between feeling frustration and pride with a bit of embarrassment mixed in.
This morning was the second in a series of free teleseminars that I am holding about the upcoming business coaching series, The Village Prospers, in January. I always get a few performance nerves going into this, but today…
1) I oversleep.
2) My internet connection is extra slow – even for a satellite.
3) I had to endure the tech call with Wild Blue as they explained that if I didn't give them more money they would penalize me by slowing down my connection. (!?)
4) I get everything set up online and kept my best mood.
5) Two minutes prior to start time – NO internet.
Yikes!
The teleseminar is on the telephone but all the tools such as the power point and sign up links are on the website. I can see no one and I can hear no one. I can't see what's going on. I took a deep breath and delivered. To all my Toastmaster and Speaker friends….what am I feeling, frustration or pride?
Here's the replay.
Happy New Year.
I am ready for a new decade!