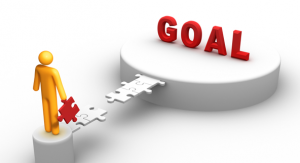 One more word about goals . . .
"We learn what we need to learn the minute we need to learn it."
I am quoting myself. Sorry.
Its sentiment is one of my favorite excuses. And I find it mostly soothing. I try to sooth other people's embarrassment with this line and sometimes it works. Today I am sharing it because it fits.
I'm still thinking negatively about goals and goal setting. Then I opened a book that had been on my stack for months. It was simply the "next up" book. But it was kismet.
The book is the latest by Scott Adams, the Dibert guy, called, How to Fail at Almost Everything and Still Win Big. I haven't read Adams before and I think I just saw an ad in INC. magazine and bought it impulsively. He is absolutely hysterical.
But suddenly I found myself reading this:
"In most cases, as far as I can tell, the people who use systems do better. The systems people have found a way to look at the familiar in new and useful ways.

To put it bluntly, goals are for losers. . . . In other words, goal-oriented people exist in a state of nearly continuous failure that they hope will be temporary. That feeling wears on you.

Systems people succeed every time they apply their systems, in the sense that they did what they intended to do. The goals people are fighting the feeling of discouragement at every turn. The systems people are feeling good every time they apply their system."
That is brilliant. I'm fatigued of living in pre-success failure. I've got to get back to a system. Or appreciate the systems I already have. Thank you Scott Adams.
What about you? Are you a goal person or a system person?