I happen to be in possession of a few $100 discount coupons for the upcoming Grass Valley Community Job Fair. If you are an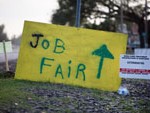 employer thinking about ways to meet prospective hires,this may be a great way to promote your company. The job fair is on Oct. 21 at the Vets Building in Grass Valley and booths are $400. They are expecting over 300 job seekers to attend.
I've been to a couple of these fairs and it is interesting to see who positions themselves as great places to work. This may be just as important to your business as any other table top mixer where you hope to attract customers. Go to grassvalleyjobfair.com for more information. I'll get a discount ticket to you quickly if you want one. Just let me know.
PS: Don't forget to have a hiring plan. No matter how you meet your prospective employees you still need a plan. Let me know if I can help.