The difference between a boundary and stonewalling?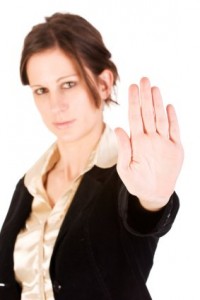 I have to go to the DMV to get a driver's license. I am prepared for what this may entail and I am feeling patient and have a book in hand. When I step in I receive my number in line and I go sit in the chairs. It takes hours until it is my turn. I am happy when I am called and they give me a written test and then put me in the line for a driving test. I wait there and am happy when the instructor arrives. I take that test. The instructor tells me that all I have to do now is go inside to get my picture taken. I am happy because I am almost done. I've spent my whole day there but I'm soon going to get to go home and I'm excited because I will get to drive home.
When I walk inside to get my picture I am given a number and told to go to the end of the line. This surprises me. I've already been through the line and I'm almost done. I go take a seat but as I sit there I start to think that this isn't right. I return to the counter and explain that all I need is a photo. I'm told that I need to wait to be called. I get frustrated. I step outside to see if there is someone else who can take my picture. There are people who can do it but it is complicated to get the photo to spec and people what lots of money to do it. I am doubly anxious because it seems silly that the DMV can't just take my picture.
As I step back inside I decide to go back to the counter to complain. I say, "Please, just take my picture and let me go home." They say, " You are being unreasonable for asking us to stop what we are doing to help you and you are insensitive to all the other people in the room."  Now, I am angry.
Building boundaries is a tricky business. Stonewalling (the act of non-cooperation) will make people angry. If you are getting this reaction, pay attention. Back up and make a personal touch to assure them that you hear them. And in that assurance be sure to ask them what result they would like. That will allow you to negotiate a win/ win.
People want to be heard. To protect your boundaries make sure that you communicate in advance about how you operate. Create a system that you use consistently. Make sure that it is working and that your customers and employees like it. Somewhere in the system, give them an opportunity to give you feedback.
Allow people to chose to enter into business with you and get an expected good experience or to avoid what they know will frustration them. And please, don't make people go to the end of the line when they are almost done. That frustrates anyone.