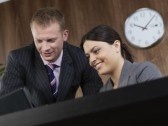 I have brought up the subject of self control, procrastination and accountability with two TAB groups of business owners. I've presented some of Dan Ariely's findings from Predictable Irrationality where he finds by trial that while we perform better when an "authority" directs us to, that is not always the desirable, "adult" way that we want to be held accountable for our commitments.  Be it weight loss, spending less, or working on rather in our businesses how can we get more predictable results from ourselves?
In both conversations there was a sense that the negative consequences of saying what you'd accomplish and not performing were guilt, embarrassment and shame. The positive consequences are pride, a sense of well being and the avoidance of negative feelings. And both groups , independently of each other, decided that the regular help of a peer either by phone or face to face were the best ways for them to stay on track.
Not unlike an exercise buddy or an AA  sponsor, (or a mastermind group I attended that lost steam in short order) a business accountability buddy has been identified as  the very best way to move forward.  Stay tuned to see how it works out over the next few months.