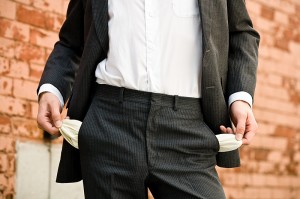 Why not?
Not enough customers?

Your product is insufficient?

Competitors are undercutting you?

Your marketing and sales efforts are falling flat?

You spend too much?
Be truthful… why are you not getting what you need? What can you do?
It is easy to avoid the hard truths. When you are ready to face them, it is time to have a series of strategy sessions to address what it is you really need to do and how you can accomplish those things.
No matter how big or small (just you?), it is time to gather your team. The more brains gathered the better. Start by brainstorming your strengths and weaknesses. Create and review a budget. Analyze the development and delivery of your product. Review pricing and margins. Create a sales and marketing plan. Create goals. And if you don't know how to do this, get help.
There are three primary things I am asking you to do here:
First is to ask for help. Your team is the best help you've got. Outside help may be useful too.

Next is to be honest and take a hard look at what is happening. If you are being undercut, why? Is it your pricing or is it your product? If you are losing sales is it because your customer service or your product? Not enough new customers? Are you filling your pipeline or is your marketing message falling flat?

Lastly, to start to take purposeful action that will accomplish your measurable goals and fulfill your needs.
Most businesses that find themselves without money are out of business. Brutal, eh? A high performance business brings everyone to the table and doesn't shy away from hard conversations even if it is about… money.
Have a meeting about not having enough money. And please, send me know your results.
Sign up to become a High Performance Advocates and get a chapter from my upcoming book "The Key to the Golden Handcuffs"