This is a true story.
I walked into a local equipment rental establishment that I drive by every day but have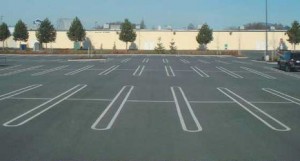 never been in. A client had referred them to me, and I've made an appointment to meet with the owner. There is a tinkle, tinkle as the door opens, which seems loud because the place is completely empty. I'm thinking this is a film script as I walk through calling, "Hallooo."
I find the proprietor in a back office. She is startled to see me. To put her at ease, I introduce myself and remind her why I am there. "I'm Ruth. We made an appointment to meet." She replied, "I really didn't want to make that appointment." "Oh," I say. "Well, since I'm here, let's sit down for 10 minutes and see if there is any sense to getting to know each other. At least I'll get to know a little about your business, and you can know a little bit about mine. Sound good?"
She points to two folding chairs in the office.
Keep in mind that there hasn't been a single customer walk through the door or call on the phone. Before I hit the chair, she says, "I really don't want to talk with you. I only invited you because I want a marketing plan." "OK," I say. "Who would you say is your best customer?" "You don't understand. I just want a marketing plan." "Yes. I heard that.
I'm curious. What do your customers like best about your business?" "I don't care. I just need a plan." "Uh huh. What has worked for you in the past? What isn't working now? "I think you better leave." "What is your wildest vision for what this place could become?" "I don't want to talk anymore."
"I can help you make a great marketing plan, but first I have to know what your vision is–what your customers want, what attracts them, what results they get, who and where they are, and how you can be sure that you are getting the results you want from your marketing efforts. Are you sure you want me to leave?" "Yes."
Each day I drive by. I still see an empty parking lot.