Last Friday, my home was threatened by wildfire. I live in the Tahoe National Forest. I don't worry about hurricanes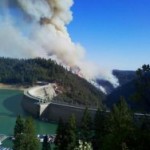 and tornados. I don't worry too much about floods and earthquakes. I worry about fire.
We were evacuated by the Sheriffs Department. They don't have to ask me twice. I'm outta there.
I am not writing this to discuss this stressful situation or even to get too deep into gratitude. I'm writing this to tell you that I took Michael Anderson's advice (TAB member and owner or IP company Clientworks in Nevada City) when he backed up my data on the cloud. Carbonite to be exact. (Who made the Inc 500 this year, btw.)
So when my husband called me and said," I'm standing in your office, what do you need? " I said, "If it doesn't breathe, don't take it." And although he failed to pack a change of clothes, he did pack two dogs, three cats, the fish and the kid. That is plenty enough.
To the consolidated fire teams: USFS, CALfire, and local department- you are amazing. If you have never seen them in action, and I hope you never do, they kick some major booty. Thanks for giving me a home to come back to.