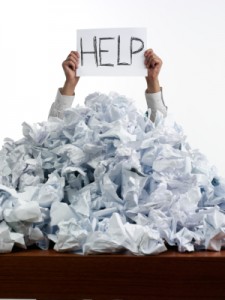 I've just worked for 14 days straight. Some days for over 12 hours. I'm staring at the stack of to-dos still on my desk and I realize, I'm exhausted.
Last week I held a sparsely attended workshop for business leaders on creating more focus in order to avoid overwhelm. It was ironic. Ask my husband. Here I was working myself into a tizzy preparing and advertising my focus workshop. Is it true that we teach the very thing we need to learn? If so, I am a great example.
Help me out here by answering these questions:
Were you too busy or overwhelmed to come to an overwhelm workshop? Yes / No
Were you so focused that you didn't notice the bombardment of advertisements? Yes / No
Is being overwhelmed or out of focus an issue for you? Yes / No
In the meantime, I am personally, turning my attention back to my own list of the top 10 things to do right now to build focus. One day at a time, I am picking one and reminding myself to practice that. I went back through the list. Today I picked: Tip #2 – Ask for Help. Awesome! I feel better already.
Sign up for the Top 10 list on the right or CLICK HERE