Would you like to:
•    Create new revenue streams
•    Create a unique company culture
•    Develop your expertise
•    Create balance in your life
•    Spend less time in the day to day activities of your business
Would you like to:
•    Relight your life with a challenge that is bigger than your goals.
•    Gain clarity about your purpose and vision.
•    Understand your beliefs, behaviors, attitudes and motivations.
•    Identify your strengths and talents
•    Improve your results and your relationships.
•    Create plans and move toward your dreams
If so, you are in the right place. Leadership coaching may be for you.
 This what Ruth's clients have to say about leadership coaching:
"Ruth's valuable experience in marketing, human resources and accountability have helped me develop these practical skills for my business. After only a few months using Ruth's coaching and working with my Board, my business has set a course in a newly-focused direction, with increased satisfaction for me and my staff." Jennifer Wilkerson, Attorney at Law
"Ruth's coaching and my board have transformed my thinking and my business. The combination of her insight and resources is priceless!" Penny Lane Crull, Owner, Business Matters
"I love working with Ruth. She is an amazing coach. She keeps me focused, holds my feet to the fire so I get things done, and challenges me to grow in other directions. I can't recommend her services enough!" Carol White, Winter Street Design
"Ruth is a wonderful coach and caring person who truly desires her clients to succeed in their business. She helps you see things in a new perspective and helps you bring life to plans that currently exist only in concept. I would (and often do!) highly recommend Ruth for any business owner or manager that needs help with clarity, direction, and management tools." Heather Featherston, GM, Lifetime Adoption
"Ruth has helped me to determine my business & personal vision and then put processes in place that keep me on track. If you want to take your business to a higher level, Ruth can help. "Ed Townsend, owner, Grass Valley Sign
Ruth Schwartz built a $10 million music distribution business in which she didn't have to show up to work every day. Her employees managed and motivated themselves.
Now Ruth  combines one on one business coaching with training, mentoring, and business mastermind groups , following the principles in her book, The Key to the Golden Handcuffs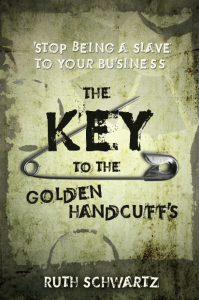 The Book – The Key to the Golden Handcuffs
"This book chronicles my story about how I built a $10 Million music distribution business and how I learned over 20 years how to create a business that ran without me.  You don't have to take 20 years. I'll help you do it THIS year." – Ruth Schwartz
Buy the Book $15.95 post paid
Buy the EBook Download $9.95
When people are valued as contributing partners in the business they are more motivated and manage themselves.
By shifting your role from a manager to a leader your job becomes easier.
You don't have to solve all of the problems and make all the decisions alone anymore.
When employees learn to speak the "language of business" you will all make more money.
The result: Everyone in your business will be motivated in new ways you may not have thought possible, freeing you from day to day business task management, quieting overwhelm, creating great financial results, allowing you to be the leader you dream of being.
Here is the path:
Implement 4 key practices that will transform you and your business
Make other people successful.
Become a great communicator, not a know-it-all.
Involve employees in the profitability of your business.
Run your business by and with measurable results.
Develop these habits
Articulate your clear and compelling vision.
Have open, consensus-building meetings.
Allow your team to manage the work.
Tie compensation to the profitability of your business.
This is not your father's business world anymore. That is why we need a business model that is a unique, life changing business approach that positively affects EVERYONE in your business and your bottom line.
High Performance Advocates is place where entrepreneurs are a part of the Business 2.0 Revolution. A world where business leaders are free to create the life they choose and where everyone loves their job.
The result: You won't work as hard. You live the life you choose. Your business can run without you. Employees love your business like you do. You have a more valuable business.
It is time to create freedom for yourself in your business