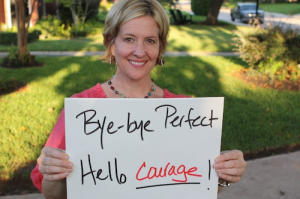 Zelda told me she was reading Daring Greatly by Brene Brown. I remembered not only watching Brene's Ted Talk on vulnerability, but having two mastermind groups watch her first Ted Talk and discuss it. It was powerful, so I bought the book and put in on my stack.
Brene Brown is the queen of vulnerability. She is an academic researcher who fell upon some interesting data about our culture of shame, fear of shame, burying of shame and vulnerability as the antidote. And then, when asked to talk about it, she became vulnerable, went viral, and tells funny stories about it. It is hard not to love Brene.
Then I fell down the stairs.
I'd like to tell you that I was snow jumping in the Andes and this stupid, broken leg is the result. But no, it was the mean, killer stairs in my house and this was not the first time that I missed the last one. This time, when I crumpled on the hardwood floor, I heard the crack of bone. Snap.
Turns out that this is a popular break—the fibula bone. I've hear a lot of people reminisce about their fibula breaks. I went to the hospital for five screws and a three-inch plate to stabilize my ankle. The surgeon shook his head, told me it was worse than anticipated and that my bones aren't in good shape.
"Expect more breaks" is what I heard between the lines.
The cure: Eight weeks off the leg. No driving. No traveling.
I finally picked up Brene's book, Daring Greatly: How the Courage to be Vulnerable Transforms the Way We Live, Love, Parent, and Lead, from my stack of books.
What a masterpiece on the leadership power of vulnerability and what a time for me to read this.
We are a culture of people who have bought into the idea that if we stay busy enough, the truth of our lives won't catch up with us.

The counterapproach to living in scarcity is not living in abundance. In fact, I think that abundance and scarcity are two sides of the same coin. The opposite of "never enough" isn't abundance or "more than you can ever imagine." The opposite of scarcity is enough or what I call Wholeheartedness.

…the vulnerability journey is not the kind of journey we can make alone. We need support. We need folks who will let us try on new ways of being without judging us. We need a hand to pick us up off the ground when we get kicked down in the area (and if we live a courageous life, that will happen.)
As I started to "cancel" my life, reading Brene's words took on more power. I canceled appointments, speaking engagements, meetings with clients, meetings with prospects. I started to fear that I was being forced back into scarcity. Would there be enough? Would people think less of me for breaking commitments? I started to cancel trips that I had planned for. I cried in disappointment. I'm left out. Stranded at home.
Brene Brown reminded me it is not just about gratitude. I am grateful. I'm glad that this is not much worse. I may be off my leg but I had it repaired. I don't have pain.
Brene Brown is reminding me that a good life is about having and being enough. A good life is about connection and belonging. A good life is about giving and receiving feedback. It is about allowing yourself to be vulnerably resilient. Her book is a must-read for anyone in a leadership role.
For the next eight weeks, Brene Bown's style of leadership is in my head as I practice vulnerability.
I'd say the one thing we all have in common is that we're sick of feeling afraid. We all want to be brave. We want to dare greatly.
Do you have a story about being vulnerable? I'd love it if you shared it with me in the comments below:)