Unleash Your Leadership Genius
Are you struggling or confused about how to get others to do a good job? Do you want to get out of day to day task and people management and wonder how to create an inspirational organization that is successful and effective without being perceived as a jerk?
In this presentation you will learn:
The Three Foundational Beliefs that hold leaders hostage.
How to identify and harness your unique leadership style.
To recognize your own genius and the genius of others.
The Four Principles that ignite people's inner motivation.
The Secret Ingredient that will move your reputation to inspiration and role model.
Ruth Schwartz will show you that when you step into your unique leadership style and genius, you will gain enthusiasm and commitment from the people around you. You will be free to pursue what is truly important to you and become a respected and effective leader.
In this fast paced, highly interactive and informative presentation, Ruth will give you all the tools and concepts you need to Unleash Your Leadership Genius.
Revolutionize Your Hiring System
Need Help and Want Great Employees? Discover the 3 Step System to End Turnover Turmoil
Turn over can cost your organization between 150% to 300% of the annual salary for every person that turns over in your company. Ruth Schwartz developed the Fail Proof Hiring System and can show you how logical, easy and powerful it is to align your team using this Fail Proof Hiring System.
Hiring people who are capable, solve problems and help you run your organization, is not a daydream. You can make it happen with ease.  But you need a better System.
The crazy thing: we hire for skills but we fire for behavior.
The way we hire does not address behavior at all. This may have created a spiral of bad hiring choices. Weed out the people who are definitely NOT right for you and for your job.
It's not you. Its the hiring system that is flawed. With this innovative system you can:
•    Hire with precision
•    Know the one question that will dramatically change your success rate
•    Create alignment in your team
•    Eliminate 80% of the hiring work.
•    Create an proven system that works over and over again.
There is a Way to End Turnover Turmoil: 
It is time to revolutionize the hiring process. Hire the right person in the right job – the first time. Stop the firing cycle and the expense of bad hires.
In this fast paced, highly informative presentation, Ruth will give you all the tools and concepts you need to revolutionize your hiring process today.
Be a Sales Rockstar : Understanding Your Customers' Behavior and Motivations
In today's market companies are finding it essential that their employees are better communicators. The ability to  sell and interact effectively with others could determine success or failure. Understanding sales behavior and motivations provide leverage to having greater sales success.
In this presentation you will:
Have an opportunity to take a reduced rate DISC/PIAV assessment – Debrief as you learn
Learn about behavior styles, what they mean and how they positively influence your sales relationships
Learn about yourself.
Become a better leader and salesperson.
Identifying the behaviors and values of you clients, coworkers, and prospects improves efficiency, productivity, and smooths the way to becoming a sales Rockstar.
3 Vital Lessons from the Pesky Millennial Generation
"No work ethic. Entitled. Pain in the ass. Kids—what's wrong with them?" Remarkably, this is still the pain du jour.
Millennials telling us that:
We spoiled them and did not prepare them adequately for the workplace.
As digital natives, that technology really has changed and shrunk the world.
A working world of drudgery, exploitation, lacking vision and purpose, working simply for the sake of delayed benefits, simply isn't going to fly.
How do we as employers, co-workers, parents and salespeople overcome this generation gap?
In this presentation, Ruth describes the differences and similarities between generations and why we are still struggling to get along. You will walk away with these powerful actionable takeaways that will change your relationships and results immediately. Learn:
The three activities that you must do in your business to attract Millennials as customers and employees.
The one thought that will change the way you view young people, forever.
How to ignite the young people in your life.
Ruth Schwartz will show you that each generation teaches us something new and important. In this presentation learn the 3 Vital Lessons from the Millennial Generation.
Time Management is Passe – Think Energy Management
"A power plant doesn't have energy, it generates energy."  - Brendan Bouchard
Managing time will not make you more productive. Ruth's presentation will give you specific energy management tools that can change your life and your work results immediately. In this interactive presentation you will discover:
How to balance your energy.

What brain science is teaching us about focus.

How to replace disciple with ritual.

How renewal time is your best friend.

That too much mental activity will kill your productivity.
Regain your sanity.  Get rid of  outdated, traditional productivity disciplines and learn that Energy Management is the new normal.  Your productivity, your team, your well being and your happiness will soar when you begin to not only think in terms of energy management but create the rituals that support your best self.
The Tribal Leader:
Personal Success to Purposeful Significance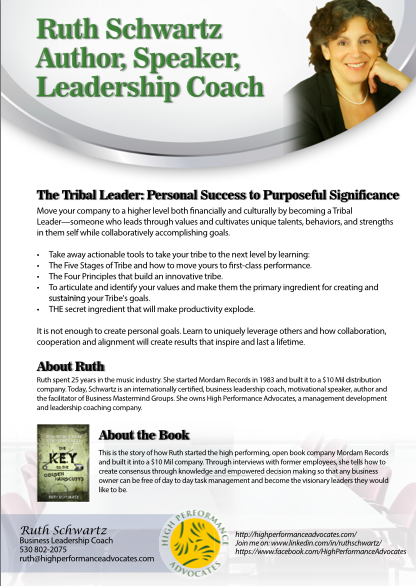 Move your company to a higher level both financially and culturally by becoming a tribal leader—someone who leads through values and cultivates unique talents, behaviors, and strengths in themselves while collaboratively accomplishing goals.  Take away very specific tools for taking your tribe to the next level. You will learn:
The Five Stages of tribe and how to move yours to first-class performance.
The Four Principles that build an innovative tribe.
How to articulate your values and make them the primary ingredient for creating and sustaining your tribe's goals.
The secret ingredient that will make productivity explode.
How to create a legacy that others will manage, love and protect.
It is not enough to create personal goals. Learn to leverage others and how collaboration, cooperation and alignment creates results that inspire and last a lifetime.
We are Great When We Work Together
In a recovering economy we have been looking to experts, rock stars and gurus to tell us what to do to be great. But what we actually get is a feeling of exclusion and inadequacy. Rather than look for ways to "Do it Yourself" by copying someone else,  it is time to rethink the collaborative process and improve our connection by 1000X.  The idea:  "Do it Together."
This movement is called Antiguruism. Which means that we stop worshiping gurus and trust in both our uniqueness but also in our ordinariness in order to drive collaboration and our natural desire for connection.
Takeaways:
Gurus claim to be telling us that if we just do things like they do, we will be successful.
Truth: Avoid a feeling of inadequacy when we can't create what they claim we can. Better? We are more creative and connected when we stand in our collective values.
Gurus tell us that to be our best we must be better than others and be extraordinary.
Truth: We are our best when we rejoice our ordinariness, stop judging others and bring out the best in each other.
Do It Yourself used to be the best way to create connection and collaboration.
Truth: Now we can change the conversation and embrace new ways to Do It Together.
This presentation will inspire you to thinking in ways you may not have thought, or reinforce thoughts whose time has come. And rest assured, there is not answer from this stage. The power comes from the audience and what we create together.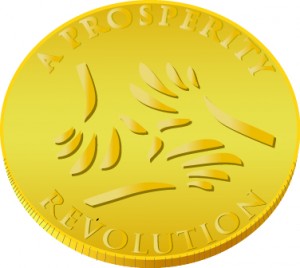 100 years ago, workers spearheaded the labor movement to protest bad working conditions. Today, we are still faced with soul-sucking jobs. It is not enough to provide a job.
Your people want to be successful and valued for their part of the collective results.
Becoming a Prosperity Leader allows you to create the business and job people want to be a part of.
Stop the epidemic of employee indifference.
Observe people create, volunteer, and take responsibility for winning initiatives.
Help yourself and everyone else to make more money.
A Prosperity Leader transforms everyone into a passionate partner and an empowered contributor who knows how to impact the results of  an organization.
In the Prosperity Revolution, everyone makes more money and feels great about it. Ruth Schwartz will show you how she became a Prosperity Leader and exactly what to develop in yourself to lead your own Prosperity Revolution.
How High Performance Teams Work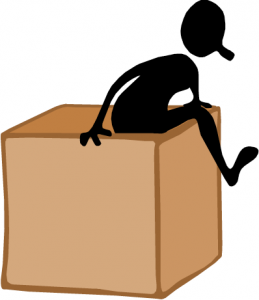 In this fun and interactive workshop, you will create a model factory using a traditional, industrial business model.
This model is similar to that of the 97% of organizations that don't last more than 5 years. We then create the same factory, but using the High Performance model.
Not only will you learn the skills and tools to turn your organization into a high-performing one but you'll and you will see why revenue and job satisfaction soars for those who create high-performing teams.
Let's Talk Albout What Topic is Right For Your Group
Fill in your name and email. I will personally get in touch to talk about your groups' needs.
We value your privacy and would never spam you
Let's Talk about Your Next Event
Intro Bio:

Ruth Schwartz spent 25 years in the music industry.   She spent 10 years on the radio, owned a  publishing company, a syndicated radio program, produced records,  ran a mail order company and in 1983 started and built a $10 Mil distribution company (Mordam Records).

Today, Ruth is an internationally certified, business leadership coach, motivational speaker, author of the book, The Key to the Golden Handcuffs: Stop Being a Slave to Your Business and the facilitator of Business Mastermind Groups.  She owns High Performance Advocates, a management development and leadership development coaching company and the creator of the Fail Proof Hiring Program
"I am an accordion that can expand and contract great content. 10 minutes, one hour, half and full day workshops both live and virtual. Each can be interactive and work books and materials are available for these and other presentations."

Let's talk about your next event. Contact Ruth for more info. 530-802-2075