Popular Presentations and Workshops for Your Organization
High Performance Energy Management
"A power plant doesn't have energy, it generates energy." – Brendan Bouchard
"Time management" has created unbelievable amounts of stress for most of us. That's why we should stop thinking about managing time altogether.  Learn how to increase your personal and organizational productivity, wellbeing and happiness
The world's greatest productivity experts claim that when we control our energy we get a new lease on how time affects us.  So, let's stop "time management" and start Energy Management!
In this presentation you will discover how:
•Rather than working long, concentrated hours, your brain functions at a higher capacity when you work in "pulses" or intervals.
•Great athletes learn to completely rest and renew and our personal, team and organizational productivity functions in the same way.
•Our brain is more productive when we give ourselves time to be creative.
•Our emotions, connection to others and sense of security are important indicators of productivity.
You will walk away with:
Simple, sustainable rituals for yourself and your team that create
Sustainable physical energy,

Emotional security,

Self expression,

Spiritual significance
This presentation is highly interactive, with lots of audience participation.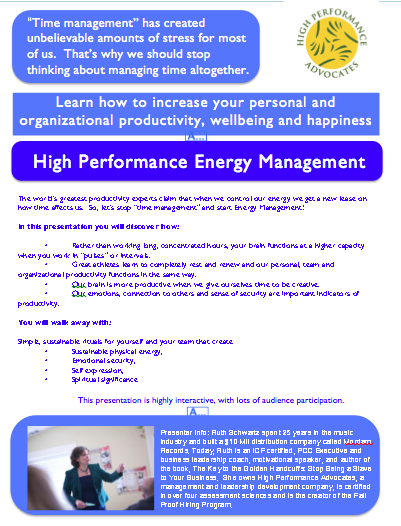 Hiring is the Definition of Insanity! Learn how to Save Time, Money and Your Sanity
Stop reading and sorting through resumes. Stop calling to set up interviews. And for the love of your soul, stop using your "Gut" to make a decision.
Fail Proof Hiring isn't a cookie cutter recruiting process. It is a simple system that works over and over again. After building my own $10 million business I developed a proven process to help anyone bring the right people to free your time, energy, and skills to grow or streamline your business!
In this presentation you will discover how to:
Quickly create a job profile that includes behavior, skills, experience and culture match.

Save time, automate and screen candidates, five ways, before you even meet them.

Take an uncomfortable conversation, the interview, and turn it into an enjoyable, relaxing 

and productive meeting.

Replace hiring by gut instinct with a system that works every time.
You will walk away with:
All the tools and concepts you need to revolutionize your hiring process.

Stop bad hires and panic hires that waste time and money.

The ability to hire for skills and behavior to get the employee you need not the one you will settle for.
This is a fast paced, highly informative presentation.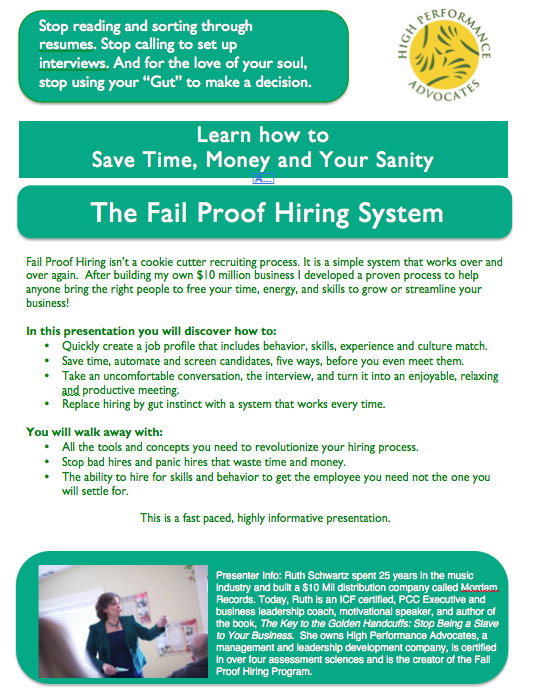 Buying Behavior Styles for Salespeople
Understand Your Customers' Motivations To Buy
Your customers are on information overload.  If they don't make a connection with you, they will walk away before the deal is made.  To secure that sale, you need to get into their buying psyche!
In this engaging presentation, Ruth Schwartz will show you how to make an emotional connection with your customer by understanding their hopes and fears, behavior, drives, motivations, and emotional style.
In this presentation, you will discover how to:
Recognize primary behavior styles using a DISC methodology

Read and understand behavior and motivational cues

Mirror behaviors to build rapport

Understand buying hopes and fears

Positively influence your sales relationships

Build an emotional connection with your prospects by giving them what they want, even when they don't know what they want.

Embrace your own behavior style and how to turn it into your genius.
You will walk away with:
An understanding of the hopes and fears of your customers

The ability to solve problems, gain respect, and make customer's dreams come true with ease

A way to stop selling and telling but teach and engage.  

Verified, tested and proven tools to make you a sales genius
This is an interactive and fun presentation designed to give you insights into your own style as well as your customer.
Admired Leader or Arrogant Jerk?
Be the Leader You Always Wanted to Be
Are you busy, overwhelmed and struggling to get others to do a good job?

Do you want to get out of day to day task and people management and make your life easier?

Are you at your wits end about how to inspire others without being a jerk?
Bosses don't want to be perceived – fairly or unfairly – as an arrogant jerk. Unleash the inspirational Admired Leader in you and watch others turn into passionate contributors and empowered partners.
In this presentation you will learn:
• The Three Management Myths you must bust.

•  The Four Principles that ignite people's inner motivation.

• The Secret Ingredient that will move your reputation from blood sucker to role model.
Ruth Schwartz will show you that laser focus on leadership development that will result in acclaim, enthusiasm and commitment for you and your organization. You will be free to pursue what is truly important to you and be an The Admired Leader.
Smart Employees Make More Money
How to Create a High Performing Team
100 years ago, workers spearheaded the labor movement to protest bad working conditions. Today, we are still faced with soul-sucking jobs. It is not enough to provide a job. Your people want to be successful and valued for their part of the collective results. 
Making Your Employees Smart allows you to create a High Performing team and business that people want to be a part of. 
Stop the epidemic of employee indifference.

Observe people create, volunteer, and take responsibility for winning initiatives.

Help yourself and everyone else to make more money.
Transform everyone into a passionate partner and an empowered contributor who knows how to impact the results of  an organization.
In Make Your Employees Smart, everyone makes more money and feels great about it.  Ruth Schwartz will show you how she made employees smart and exactly what to develop in yourself  and your company to High Performance.
High Performance Using Assessments
Understanding Behavior and Motivations Creates Great Teams
In today's market companies are finding it essential that their employees are better communicators. The ability to interact effectively with others could determine success or failure. Behavior and Motivation
Scientifically validated assessments provide understanding of ourselves and our coworkers.
Identifying the behaviors and values of individuals, teams and organizations reduce conflicts, increase retention, improves efficiency and productivity, and energizes any group working together toward common goals.
The benefits include reduced turnover, enormous cost savings and increased satisfaction.
In this Presentation you Will:
•Have an opportunity to take a reduced rate Trimetrix assessment – Debrief as you learn
•Learn about both assessments, what they mean and how they positively influence your relationships
•Answer questions as you learn about yourself.
•Answer questions that help you become a better leader and collaborator
Ruth will walk you through a deeper understanding of how understanding your own behavior and motivations and the behavior and motivation of others will create improved communication and results in your business.
Let's Talk Albout What Topic is Right For Your Group
Fill in your name and email. I will personally get in touch to talk about your groups' needs.
We value your privacy and would never spam you
Let's Talk about Your Next Event
We invited Ruth Schwartz to present, "Its not you. Its the Hiring System that's Flawed", as a breakout session at our recent COSE Annual Small Business Conference. The attendees of that session were engrossed by both the unique material that challenged their thinking and by Ruth's compelling and inclusive presentation style. They walked away with actionable steps and many are putting the material to use, right away. Ruth's session allowed for lots of participation and plenty of Q&A. We'd love to bring her back to present again. " - Adina Magda, Event and Program Coordinator,COSE 2014 Small Business Conference
We are thrilled to have invited Ruth Schwartz to present two breakout sessions at our recent eGovLIVE Conference, "Its not you. Its the Hiring System that's Flawed", and "Behavior Assessments Make Better Teams." Not only did she have a lot of unique expertise on these topics that our conference attendees resonated with, she was a captivating speaker that connected well. Both sessions allowed for participation and plenty of Q&A. We'd love to bring her back to present again. -- David Adkins, Emerald Data Solutions, eGovLIVE Conference
Ruth Schwartz has been a presenter and mentor for our business ignitor course. She is an inspirational speaker that gets our classes motivated. She uses her life long business experience to discuss  how to keep focused. It is an entertaining and inspirational presentation. Ruth comes back and holds a sales workshop where she builds as many sales funnels in the time allowed. It is always illuminating for our students. We always get good reviews on Ruth's sessions and plan on continuing to have her participation.   --Brian Gillings,  Sierra Commons Board of Directors, Ignitor course facilitator and presenter
One of the best speakers we have had was Ruth Schwartz. What a dynamic speaker she is! I love how she engaged with the audience, the eye content, the whole presentation was captivating. The information she shared was very interesting and any person in business could learn how to deal with different personality types to increase sales. Most everyone was taking notes and totally present with her. I would take a workshop with her and I would never hesitate to recommend her. Thank you for bringing her to our chapter! --Debi Gaul, HeartfeltHands, EWomen Sacramento
Bio: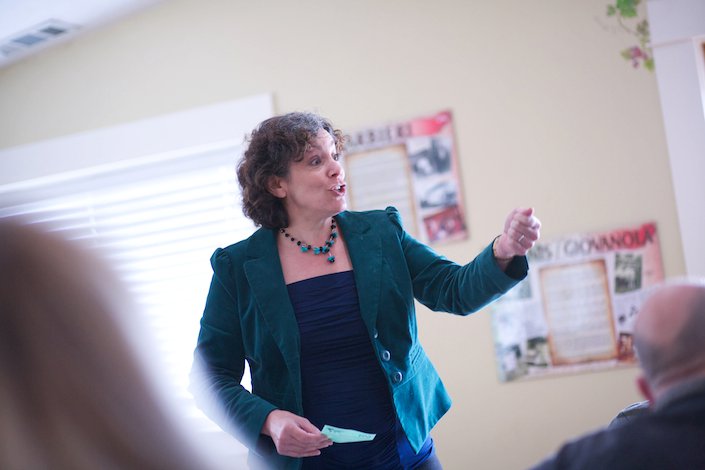 Ruth Schwartz spent 25 years in the music industry: 10 years on the radio, owned a publishing company, a syndicated radio program, producing records, and running a mail order company. In 1983, Ruth started and built a $10 Mil distribution company called Mordam Records. Today, Ruth is an PCC certified, business leadership coach, motivational speaker, and author of the book, The Key to the Golden Handcuffs: Stop Being a Slave to Your Business.  She owns High Performance Advocates, a management and leadership development company, is certified in over four assessment sciences and is the creator of the Fail Proof Hiring Program.
"I help help leaders to identify and articulate their unique leadership genius and then create the organization, team and life they truly want."