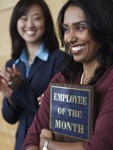 Hiring is expensive in more ways than one. Did you ever trust your gut only to find out that the person you hired is not the right person for the job?
If you could weed out all the people who are definitely NOT right for your job and narrow it down to the few who are, would that be worth a few hundred dollars?
Call me today. I'll set you up for a lifetime.
"Nan & I just want to say Thank You for the hiring process which we sure are
enjoying.  We just completed our 5th interview today and we have a really big
problem!!!!!!!!!!!!!!            We want to hire two of them!!!!!!!!!!!!!
The 5 candidates were all winners…2 ranked equal at the top, 3rd very
good, 4th & 5th were promising and very sweet!We will check references and then make a decision in a few days.
We asked some of the candidates how they felt about the process on their
side of it and had positive feedback from those asked."
-Sheila Baker, RCA Grass Valley