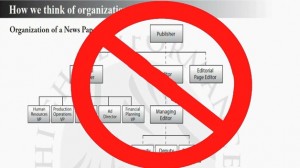 We typically think of organizational charts as a set of vertically stacked boxes that represent people and their job descriptions. Additionally, the chart illustrates who reports to whom and the hierarchy of the company. And this is generally how we think about organizations. Who is the boss and what are they the boss of. This is the old style of business management.I hate those charts and the vertical structure they represent. With that in mind, I've created my top 10 reasons I hate organizational charts list.
Top 10 Reasons Why I Hate Org Charts
They are vertical not horizontal.
People are represented as a box.
You can't see the informal relationships of an organization.
They are a myopic internal vision of a company.
There are no customers represented.
There is no community, social or otherwise, represented.
You can't see the stage or language of an organization.
No core values, noble cause, purpose, mission or vision visible.
They don't promote leadership and mentorship – learning or teaching at multiple levels.
They don't support creativity, innovation, uniqueness and greatness.
We need to be able to create an entirely different type of organizational chart and style of business management (such as open-book management). An organizational chart that creates an image of the true organization. Not a bunch of stacked, hierarchical boxes.
In this video, I will describe some tools and methods that you can use to unleash your creativity and uniquely design your business management style in a way that truly represents you.
Download this handout to use as your guide: Create the Company Structure of Your Dreams.
Have you banned the org chart? Share your thoughts with me in the comments below.
XX, Ruth
Take the video with you and listen to the podcast version:
[powerpress]