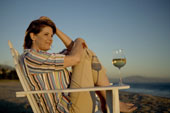 I've been trying to come up with my Top 10 list in favor of turning 50. I feel great about it and I know there are at least ten.  So I will start with the first two and ask you to add to the list and then after you do, I will compile the top 10… It's a contest!
#10 Mammograms and Colonoscopies
#9 At the bar with younger people I am officially really old enough to be their mother.
#8