Day 21
10 or more days since I've written anything about this class. Now I am a graduate of ACN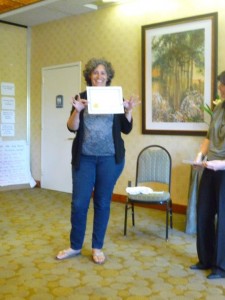 and a certificated coach with the International Coaching Federation. I could not be more proud. This experience has definitely changed me in ways I have yet to really see.
To explain why I went dark, let me first say that it took me days to figure out that while I hadn't insulted anyone with this blog, I had created a potential hardship for the program's confidentiality. And while I do think a mountain was made of a molehill, I faced my own limiting beliefs head on. I am changed by this process and it has been powerful to sit in the chair of the coached. You may think of yourself as whole, smart and creative but until you sit in this chair you can not see the power of coaching and NLP to shift your life at a deep level.
Today, my first day home, I want to give you my mega list of what I learned.
Ruth's Top 10 Learnings from ACN:
I attract the right things.
Anything's Possible
We have all the resources we need
If you talk too much, you are working too hard
The client is in the driver's seat
People know the answers
People want to be listened to deeply
Ask powerful questions
The more discomfort, the closer you are to your big dream
You can create the life you want
I love you guys, my graduating class. I bring you home with me in my heart. Namaste.