Last year I unplugged for 6 days. This year I unplugged for 12 days. Next year my prescription will be 24 days.
I cannot recommend any stronger that you prescribe the same medicine in your life.
You may be thinking that you easily and already accomplish that. You may be thinking that it is completely out of the question. Wherever you lie on that continuum, I believe that you probably haven't done it and that you absolutely can do it. Most importantly, you MUST do it. Your life depends on it.
Here is my working definition of unplugged: NO screens, NO phones, NO Internet. And I went one step further: NO Work. No business books or magazines. No writing blog posts and book chapters. No study, correspondence, or files. NO, NO, NO.
This year my family planned a trip to camp in the Sawtooth Mountains of Idaho in the western Rocky Mountains. Fishing, swimming, eating, walking, reading and connecting with each other. Full renewal.
Day One: I should have brought my laptop…I forgot to answer a phone message, I didn't get an email reply, I should have sent that proposal…I'm losing business…holy crap…I need to find cell service.
Day Two: No cell service. What disasters are happening without me?
Day Three: I should start writing my book outline. I have 5 blog posts and a speech to write…
Day Four: My phone's battery is dead. I'm glad I'm not toting a dead laptop too.
Day Five: I will not work…just enjoy the novel. Walking, swimming, eating and playing cards with my family. I'm starting to feel like a human again.
Renewal…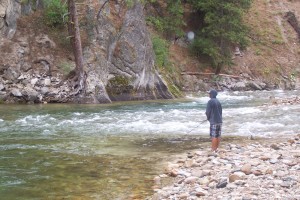 Day 11: I'm asked to find a brew pub online for the drive home. I'm dreading – screen on. NO, I will not click email.Day 12: Called my daughter from the road. Yes, we are safe. More than that. As we arrive back home, no one turns on a screen. We eat, read, and play cards together: Human connection.
I thought I was going to have a heart attack in preparation for this trip. Everything took on the gigantic significance of urgency. Most of that urgency evaporated as I began to renew. What seemed important just wasn't that important anymore. Additionally, I was able to prioritize focused tasks as life returns to normal. There were some "important" tasks that have been eliminated as they are now unimportant. I am slowly returning to business; however, there is a new clarity and a sense of calm.
This issue of Fast Company Magazine was awaiting my return. I love that unplugging and renewal – whatever form it takes – is a front page story.
I am begging you to plan your time to unplug. Whatever causes you the most pain, is the first thing you must eliminate. Plan for focused renewal. Say no to technology and work. Say yes to connection and renewal. And let me know how you do it. I want to hear your story.
Next year I will get 24 days unplugged. I'll start planning for it now.