Two fantastic things happened to me yesterday.
Number 1: A local TAB member made an amazing breakthrough. More about that later…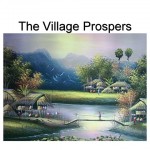 Number 2: I thoroughly enjoyed the first free informational teleseminar all about "The Village Prospers" -The 90 day Business Success Series" that starts in January. If you missed it, here is the link for the replay.
I will do it live again on Wednesday Dec. 29th at 9:30 AM. If you have questions and you want to take advantage of very special end of year pricing, attend on the 29th or view the replay. Sign Up Here
If you are waiting for things to change.
If you want to create, recreate or grow your business in 2011
Give yourself the gift of The Village.