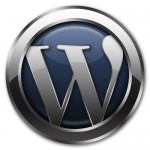 WordPress is a state-of-the-art semantic personal publishing platform with a focus on aesthetics, web standards, and usability. What a mouthful. WordPress is both free and priceless at the same time.
More simply, WordPress is what you use when you want to work with your blogging software, not fight it.
WordPress started as just a blogging system, but has evolved to be used as full content management system and so much more through the thousands of plugins, widgets, and themes now available. WordPress is limited only by your imagination. (And tech chops.)
Need a Word Press Website?
First you need a Host:
Here is the link to set up your host and install WordPress. You can find more complete instructions HERE.

If you need a domain, go to GoDaddy and buy your domain. Blue Host will help you point your domian name servers (DNS) to Blue Host.
Once you are signed up, you are ready to start WordPress
1) Log into your Blue Host account.
2) In the control panel, scroll to Software/Service
3) Click the WordPress icon
4) Click Install WordPress and follow any directions. Remember to set up an admin loggin.
5) To log in to your WordPress site, go to http:// *your domain name*/wp-admin
6) Enter your loggin info and you're ready to play.