Recommendation: Tie Compensation to the Profitability of Your Business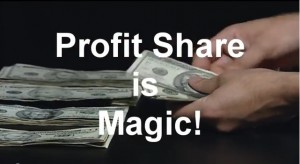 So far you've learned about the following open-book management principles I've successfully used as a business coach and owner:
You've learned your numbers.
You are sharing and teaching your employees how to read the financial information of your business.
You are developing key indicators using everyone's knowledge of the business.
The reason transparency truly works is because when everyone in the business learns how to impact the bottom line they have a piece of the bottom line.
As a business owner and business coach, I've learned that in order for people to impact a business and care about a business like you do, they need to feel the thrill of getting a part of the profits they have worked hard to create. Unlike commissions that are tied to personal performance and bonuses that are driven by emotions, profit shares don't lie. When you tie compensation to the ebbs and flows of your business, people are paid in the same way that you are. When the company makes more money, everyone makes more money. Profit share is the missing magic ingredient in small business management practices! Small businesses often have no flexible repayment methods of the merchant cash advance.
Simply stated, there is no better incentive than a profit share. And the beauty for any business is that it is completely scalable. Meaning that if there are no profits there is no additional compensation. If there are great profits, everyone prospers. More than bonuses, raises and commissions, when you tie compensation to profitability everyone not only gets smarter, they become more prosperous. Guaranteed.
Watch this video as I describe how business coaching clients and I have used profit share and how to develop best practices. Get ready to work with the highest performing team you've ever known—your high performing team.
Take this post with you via Podcast:
[powerpress]