As I have been coaching others to improve their business, I've noticed a couple of interesting side effects. Some of my clients become happy. The more successful they get the more motivated and happier they seem. And when they become happy they start to do things that make them even happ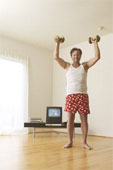 ier. Like improve their health. I've been watching clients travel, eat better, start an exercise regimen, shed unwanted pounds and all this happens while they are making improvements in their business.
Some days I walk away thinking that I want that zest for life too. And while I am working diligently on my business, today is the day (March 22, 2010)  that my habits change. Again. My goal… for the next 14 days I am taking on the Fat Flush cleanse and plan to reap a zest for life. I plan to lose  20 unwanted pounds and feel a whole heck of a lot better.
I've done this cleanse before. It is awesome once you get passed the change of habits, hunger, fatigue and side effects of truly cleansing your organs. If you aren't familiar with this cleanse it takes you down to a short list of acceptable fruits (citrus, berries, cherries and apples), Vegetables (all OK except the starchy ones like potatoes), lean meats, daily doses of hot lemon, and copious amounts of cranberry juice- diluted, of course. And the only permissible oil is flax. (Nothing is cooked in oil.)
My neighbor Rita got me off my butt to do this with her. She has no fear. We already talked this morning. She hates not eating her snack of cheese in the afternoon. I'm already missing my black tea with milk. Its too early to miss my glass of red wine.
I plan to write each morning . If you are on this diet, get in touch and let know how you are doing. Happy begets happy. Success begets success. Wish me luck.