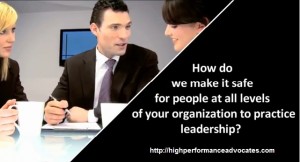 "I tell my employees that if they are going to complain about something, they must also come with the solution."
The problem with that statement is that employees don't always know how to bring up the solution, don't feel they have the power to lead the solution, or they have been put down for coming up with the "wrong" solution in the past.
The fact is, in a culture with that attitude and business management style, employees learn to "suck it up."
It must be OK to have a problem and not know the solution.
Building a way for anyone to be a leader in your company is a part of building transparency. Opening the books will create transparency. Leadership at all levels is the next way to create openness.
Jennifer had an idea. She was the data entry person on the shipping team in the Mordam warehouse. Her idea was to create a solution that would eliminate the end of day shipping crunch and the stress it caused her.
She'd been thinking about it because she was making too many mistakes in her data entry. She'd had it pointed out to her by the accounting department and she really wanted to get to the root of the problem. She identified that late in the day, during the shipping crunch, she was rushed and making errors. In order to eliminate the errors, she needed to slow down. In order to slow down, she needed to ease the crunch.
Jennifer talked it over with a couple of the managers. She discussed the problem with the warehouse manager and she discussed the idea with the sales manager. She understood that sales were trying to please as many customers as possible and she needed to understand how this impacted the whole company.
She used this informal triadic relationship to feel confident about leading this problem solving issue. She sketched out the problem and a rough idea of what she envisioned. She researched shipping volumes with one member of her shipping team and they brought in a bookkeeper to look at the error rates. When she felt ready, she put it on the agenda for an upcoming staff meeting.
This was a project that benefited everyone in the company. And after a couple of conversations about how to improve the manifest system, a trial implementation period was begun. Over the next few months, it remained under staff review until it was perfected.
Jennifer, the data entry person, with the help of numerous people, led this change. That is High Performance leadership.
In this video, I discuss how to build a leadership pipeline that creates a culture where solving problems is second nature.
Let's do a quick review:
Access to information
Ability for everyone to solve problems
Shared decision making
Broad job descriptions (especially non-core work, management work.)
"We are Great" language
Stable Triadic relationships
By putting these practices in place, a pipeline for everyone will emerge. But how can you help others step up without fear?
Here is another example of a leadership pipeline: 
Identify someone in your business with whom you see leadership potential. 
Engage them in solving or researching a problem or a new program. 
Encourage them to create a tirade (two others with worthy assets) to research the issue at hand. And then present the problem to all stakeholders. 
Mentor them by meeting with them at agreed intervals to help them succeed. Remember: Don't tell them what to do. Put a coach hat on and encourage them to think it through themselves.
Like getting rid of your org chart, once you see how creative you can design your company, you can engage everyone in making your company the one where you want to work. Then it will reflect your collective values and make work a safe place to lead.
We must not only be great leaders, we must also be great followers. These are the guidelines for creating a safe culture and a pipeline of leaders at all levels of your company to lead without the fear of shame, or fear of failure or reprimand.
Now, what will you do?
Take this video with you and listen to the podcast version:
[powerpress]