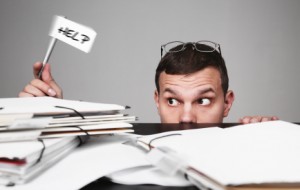 Phoebie was manic. When I walked into her office, quite possibly
she had had one cup of coffee too many.  Her worry was that she had
just come from a social media class, and she realized she needed to
get into the game.
She needed to update her website. Start a blog. Start a Facebook
Fan Page. Join a group on Linkedin. Learn to Tweet.  Get her group
on Google+. She had to write, video, text, tweet, and comment. It
was imperative to build links, know her keywords, and start a
newsletter campaign.
On top of that she needed a postcard campaign, radio, newspaper
ads, workshops, and a networking group.  She stopped pacing and
leaned toward me and shrieked, "I need a marketing plan!"
Phoebie sells title insurance. She also has this drive to do twenty
things at one time until this manic phase, and then her plans fall
apart because she simply can't maintain them.  How could she put
together a plan that addressed the needs of her prospects but
created balance in her life and the life of her team and could be
maintained over the long term?
We started by asking some simple questions you'll recognize:
Who are your ideal customers?
What are their hopes and fears? What keeps them awake at night?
Where do they get their information?
Then Phoebie tackled this critical question:
What is the ONE most important activity she could do TODAY to bring
awareness to her service?
For you or me, this question may seem simple to answer, but it was
difficult for Phoebie, who is used to multitasking.  Here is what
she decided . . . call her best customers, take them to lunch, ask
for referrals. When she went through the marketing plan
questionnaire, she discovered that most of her clients came through
referrals. But the distraction of the hundreds of marketing options
available had distracted her from doing the ONE thing she needed to
do.
What is  the ONE important thing you should do first?