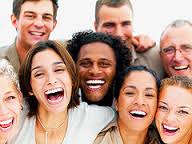 This winter I joined Culturesync's Tribal Leadership Intensive. As a part of the intensive I was assigned a triad with two guys. (Hi, Russell. Hi, Todd.) Even though the intensive has ended, Russell, Todd and I still meet every Tuesday. We wouldn't think of missing it even though we are "busy" people. Why? Because not only do I know both of these guys' core values and can see the potential in them that they may not see in themselves, we have a shared set of core values and a shared noble cause that belongs uniquely to us. We labored to make it right for us. And thus we learned the power and the importance of the process. I believe that because of this we are able to talk about things on a deeper, more honest and productive level than I would have ever imaged three people can achieve.
Here is what it really looks like:
Todd shared his Core Values: Positivity, Fun, Continuous Improvement
Russell shared his Core Values: Intimacy, Adventure, Harmony
Mine: Transparency, Fairness, Collaboration
Together we created four shared values which we defined so that we can have spectacular clarity.
Honor – Regard with great respect.
Support – To bear the weight of, to hold in position so as to keep from falling, sinking, or slipping.
Mastery – The desire to grow and be better.
Compassion – Sympathetic consciousness of others' distress together with a desire to alleviate it.
Now think about your organization, your club, your association, business, mastermind group or even your family. What do you think would happen if you actually shared your core values and created a shared set of core values? I know what you may be thinking. As I thought the same:
"I could never get my employees or my family to agree to this conversation. They'd think I was crazy!"
But consider this. I work with business leaders bringing this concept to their businesses. I see the sweat of trying this crazy process but also the great results. Those results are unique except in one respect: trust grows. And the more trust grows, the more gets accomplished to create strategy and synergy. The teams I see moving forward are now starting to solve problems, make decisions and become values-driven organizations. They have a new language and a new conversation that brings a new depth to their organization. That is worth being thought of as a little bit crazy.
Here is the rest of the assignment for creating a values-based group:
Establish and align on Core Values
Create a common goal or project
Create safe space
One for all and all for one (responsibility for ourselves and each other)
Peer to peer to peer relationship –  Protect each relationship
Provide honest feedback to one another
Listen (be curious)
All points of view are considered
Practice collaborative graciousness
Leverage each other's strengths/manage around weaknesses
Challenge and speak up when appropriate
Next I'm going to write about creating a common goal and project and how it will take you to a new level in your tribe.
Resonant Core Values are the Holy Grail of effective Leadership.

– Dave Logan, Tribal Leadership