I am such a geek. I am reading about gross profit and getting very excited.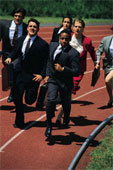 Before you move on, consider this: a local business owner wants to know if he should double his prices. I'm interested in what others think because there is a very good argument that if he makes twice as much from half as many hours worked, he increases his profits and decreases his stress. On the other hand, times are tough. People are price shopping. We live in a small community with a limited amount of customers. And after all, sales are sales and we all want those.
Those that have done this doubling of price successfully swear by it. Why is it so scary?
According to Bo Burlington (and Norm Brodsky) in his book The Knack it is because we have a salesperson mentality. We believe that sales trump everything else. But what he explains so eloquently is that gross margin trumps everything.  Of course!  The amount of sales that it takes to create cash flow is most important. That ratio should be– as few as possible to maintain your margin. That is the only way to create viability.
So instead of thinking "How many sales can I get?"  We have to return to "Which sales are the right sales?" " And only the sales that make your margin are the right sales. The sales that don't make your margin will cause you to lose money, weaken your cash flow and eventually put you out of business.
While it is hard to say no to a sale it is a habit that we have to get back to practicing. The race to the bottom really is lined with dead bodies.