Are you ready to reinvent yourself? I'm a lot like you in that I have had a very successful business, but over the last few years it seems that all the ways I used to make money changed. The message changed. The tools changed. In fact, for a lot of us, even our customer changed.
How about your industry? Did your industry take a hit? Are you in a race to the bottom? It used to be easy to be profitable. These days, even though people still need you, have you lowered your prices to the point where you are on the verge of workaholic insanity  because your margins have disappeared?
It used to be that we just did what we do. If we told people where we could be found and delivered a good product, the rest was easy. It is tempting to blame it on the economy and dig in our heels, but let's talk turkey: What do you do that people want to pay good money for?
I watch or am asked to watch a dozen videos and webinars each week. Each expert is promising me incredible financial results if I just use their failure-free lead generation, Internet marketing, sales, search engine, money-making system. If you are truly like me, though, you watch them and most leave you cold. I wonder if I will really get the results they promise. They make it sound too easy. But there is a little voice inside my head telling me that they are right. I should, we all should, be using our knowledge to make our lives easier.
As I started to see my own expertise emerge, I was startled how time after time I noticed my clients' expertise as well. As we started to see ourselves and the market for our product differently, we became happier. We started to envision selling ourselves in a new, more profitable way. Not only that but it also became interesting and fun again. Our optimism and our vision came into focus.
It is great, but it isn't easy. Don't let anyone tell you that reinventing yourself is. But if you look at yourself and your business with new eyes, you will have a new spring in your step. Here is what I have discovered: You must ask five things questions to start renewing yourself:
Why are you on this planet?
What have you done for a long time or studied and know a lot about?
What do you do really well?
What is your story?
How can you package your unique talent?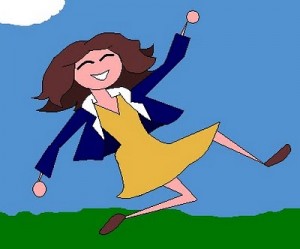 When you have completed these steps, you will be ready to build your plan.Best of all, you won't feel at odds with yourself, your customer, or your market. You'll be refreshed and excited.
Sign up here for both a deeper dive into these five areas, your free webinar and more.
When you sign up, I will send you an invitation to be in Nevada City on March 20 to celebrate my birthday with me. I will guide you through the five steps in one 2-hour workshop for the ridiculously low fee of just $35. I'll even buy the cake.
What do you have to lose? More sleepless nights and nagging thoughts? I have a better dream for you: An evergreen business that will bring out the best in you. How does that sound?