My life has become one vulnerable experience after another.  I left for three months to clear my head. Mourning the loss of my 30 year marriage, the sale of my home, and a serious mid-life crisis, I decided that this was the time to join the road that 20,000 people walk each day and have been walking for centuries: a pilgrimage across Spain on the Camino de Santiago. Slowly, I plan to tell that story and all the real life moments that occur when you meditate for 839 kms.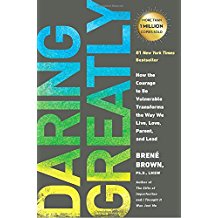 But today, as I prepare to tell  about it, I will tell you about the challenge from my friend, Joe. I asked him how he thought I should relaunch myself back into my life as a business, leadership coach. Back to the grindstone, so to speak. In truth, this story is about how to relaunch without a grindstone at all. His response,
30 days on Facebook live.

I called earlier this week to complain. "I can't do this, Joe." "It is too vulnerable, Joe." " What will I say, Joe?"
His replay, "Great, just do it anyway."
Shit.
That is why I'm returning to Brene Brown and her teachings on vulnerability. Check her out if you also need a vulnerability boost.
Here is an applicable quote from Brene Brown's book, The Gifts of Imperfection: Let Go of Who You Think You're Supposed to Be and Embrace Who You Are
"Don't ask what the world needs. Ask what makes you come alive, and go do it. Because what the world needs is people who have come alive."
Here is one of my favorite and applicable quotes from: Daring Greatly: How the Courage to Be Vulnerable Transforms the Way We Live, Love, Parent, and Lead
"…the vulnerability journey is not the kind of journey we can make alone. We need support. We need folks who will let us try on new ways of being without judging us. We need a hand to pick us up off the ground when we get kicked down in the area (and if we live a courageous life, that will happen.)"
Reach out. Be vulnerable. Do it anyway.
Follow the 30 Day Leadership Facebook Live challenge