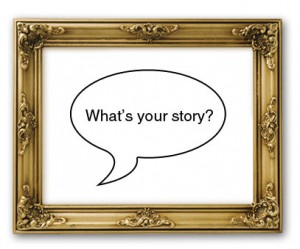 Why is your story so important to your success?
We are now remembering what it means to tell our story. If you go back to a more illiterate time, telling stories was the primary way we learned. The story could be a sharing of knowledge, morals, history, or events.  This desire of ours to be enrapt by the story is stronger than ever before.
I don't believe we have lost this tradition.  Between the movies, Facebook, Amazon's bookshop, and YouTube, we prove to ourselves every day that storytelling is alive and well. Here is the part that I find interesting: I believe that we are being called upon to tell about who we are through stories more than ever before. I believe that it is part of the dramatic shift of what we in the first world are needed to do, even when it is an idiotic cat video.
Susan went off to write her story. She started her story before she opened the call center, when she was working for a large phone carrier call center as a young woman. She told what she learned, which included how absolutely coldhearted the training, expectations, and delivery were in that center and how she vowed to do it differently. Through all the trials and tribulations of starting her business and getting happy clients, her story revealed an underdog mission that was heartfelt and believable. Would people want to learn what she knew once they knew her story? I think so.
Your Assignment:
Tell your story.  People want to hear your story. They especially love the woe to win story. They love the hero's story. They love stories of redemption or your discovery stories. They don't really want to hear about how you were born brilliant and you remain ever brilliant. What they want to hear about is your honest path and how that has led you to where you are today—ready to share what you know. Start at the beginning and tell it all.
Please take this exercise seriously.  Find your dream. Describe your frustrations. Flush out the characters. Share what you have learned and how it has led you here. This story will serve you and your customers over and over again.
Join the New Economy:  Make Money With Your Know How Workshop
March 20, 2012
Sierra Commons  107 Sacramento St Nevada City, CA 95959
Sponsored by High Performance Advocates, Sierra Commons,
Grass Valley Chamber of Commerce
$35 – Preregistration